Compatible WHMCS

WHMCS 7.x, WHMCS 8.0.x, WHMCS 8.1.x
Number Domain Install

Unlimited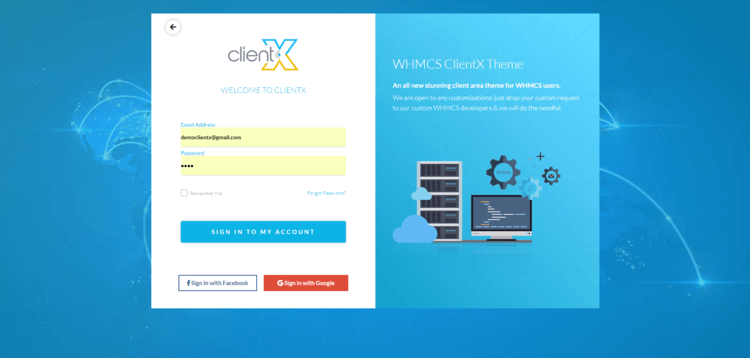 CLIENTX WHMCS CLIENT AREA TEMPLATE
ClientX is the most unique WHMCS client area theme or template that gives a unique design to your WHMCS client area. It comes with various styles and features that make it more unique than any other template available in the marketplace.
Change color style according to your requirements with the ClientX addon module in WHMCS admin, you do not need to have developer knowledge to change the colors, you just need to add hexa codes and its all done.
CLIENTX KEY FEATURES
1. Attractive Home Page
2. Color Scheme Changer from WHMCS admin
3 Multiple Menu Styles
4. Comes with Social Signup
5. Fully RTL Supported
6. Inbuilt custom designed Order Form Template
7. Refreshed Domain Search Page
8. Add your custom Header and Footer in Client Area
9. Menu Editors (Add, Delete or Edit Menu Items
10. Comes with Unique Invoice Template
These features have made the ClientX the number one selling WHMCS Client Area Template, come and join the team WGS by opting the ClientX.